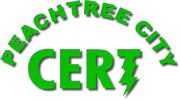 News and Events: Next CERT Class
CELEBRATE

Of Peachtree City CERT
Next CERT Class - Thu, Sep 14, 2017, 6:30p
PEACHTREE CITY POLICE DEPARTMENT PRESS RELEASE (modified)
Emergencies... Disasters... Are you prepared for the unexpected?
The Peachtree City Police Department will be hosting an Adult Community Emergency Response Team (CERT) class beginning September 14, 2017. Classes will be held each Thursday evening for ten (10) consecutive weeks and will conclude with a graduation on Nov 16, 2017. The classes begin at 6:30pm until approximately 9:00pm at the Peachtree City Police Department.
This will be a highly informative and interesting learning experience. The CERT program offers valuable insight into the first few critical hours following an emergency related event. Individuals will learn basic preparedness and response skills and become empowered to better sustain themselves and their families during such events.
Prospective candidates must be at least 18 years old and residents of Georgia. Applicants will be required to sign a Waiver of Liability form and will be subject to a criminal history background check as a pre-condition to acceptance into the program.
There is no charge to attend the class; however, class size will be limited.
Applications and Waiver forms are available here on the CERT PTC website (pdf) or may be obtained from the Library, City Hall, and the Police Department. The application deadline is September 06, 2017.
For more information about the CERT program, please visit the police department's website, or call 770-487-8866.
Dates: Each Thursday, starting Sep 14, 2017
Time: 6:30p - 9:00p
Place: Peachtree City Police Department
Application Deadline: September, 06, 2017